The Immigration and Public Law Team was delighted to collaborate in this webinar with Dr Juliet Cohen, Head of Doctors at Freedom from Torture, which was presented on 21st September 2021.
You can access a copy of the presentation slides here. To view the recording, click on the link immediately below.
Senior practitioners Charlotte Bayati, Samina Iqbal & Sarah Pinder with Dr Juliet Cohen – Head of Doctors, Freedom from Torture discuss key aspects and updates when commissioning, considering and using medico-legal reports (MLRs).
Together, they explore:
Commissioning and using MLRs in Covid times
The API and how this relates to MLRs
How we can use the recently disclosed guidance on how to consider MLRs in unlawful detention cases
MLRs in asylum and other relevant cases touching on the Supreme Court's judgment in KV v SSHD and other relevant recent cases
The proposals in New Immigration Plan to instruct joint experts
We are also delighted to fundraise on behalf of Freedom of Torture and would encourage a suggested minimum donation of £5 for anybody who accesses this resource. You can donate by using this link here.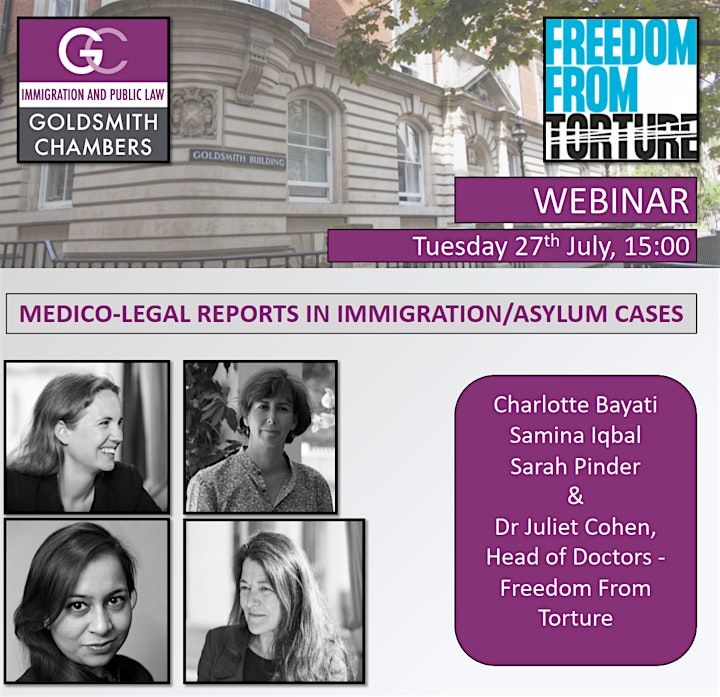 ---